"It's All About the Kids!"
Tournaments, Camps, Clinics & Lessons
for All Skill Levels
WHAT IS HAPPENING IN THE NCJGA WORLD!!
FULL FALL SCHEDULE WITH SOME GREAT EVENTS!
Sunday, October 14th  - Executive Tour at REIDY CREEK GC                Sunday, October 28th - Championship Tour at TWIN OAKS GC
Sunday, November 4th - Executive Tour at Oaks North GC
Monday & Tuesday November  19th & 20th - Championship Tour      Monday at Shadowridge Country Club - Tuesday at Vineyard GC
Saturday, November 24th - Wishbone Brawl 2 at Goat Hill Park GC
Sunday, December 2nd - Welk Resort - Fountains & Oaks GC      Saturday & Sunday, December 15th & 16th - Woods Valley GC          TOYS FOR TOTS - please bring a small unwrapped toy, thank you!
GOAT HILL PARK BOYS & GIRLS TEAM PLAY COMING THIS FALL         Boys & Girls NCJGA Junior Team Play coming this September at Goat Hill Park!! Kids ages 8-16 can play in our NCJGA team play at the Goat. All abilities welcomed and encouraged to play and improve!
REGISTER ONLINE AT WWW.NCJGA.COM / EMERICKGOLF
Please have the kids start a SCGA handicap and start posting scores.
The easiest way to get a SCGA handicap # would be to join the Jr. Golf Pass with the SCGA and your son or daughter will receive a SCGA # and the kids can begin to post scores.
Click here for the NEW 2018 SCHEDULE
Thanks to all the sponsors and great families who make the NCJGA fun!
NCJGA is truly "All about the Kids"
NCJGA PARENT / JUNIOR AT AVIARA GOLF CLUB                    Sponsored by Taylormade Golf, Linksoul, (LTH) Local Tap House Boys Flight 15-18  Jared Tran & Quang 65                                              Boys 12-14 Caden & Mike Pinckes 71 Jay Leng jr & Sr. 71                  Boys 9-10 Tim & Thomas Browning / Harry & Michael Riebe 64 Parent / Daughter Janae & Jan Leovao 68                                        Adult Long Drive - Bob Maggiore & Tim Browning                        Adult Closest to the Pin - Charlie Newfeld, Greg Huartado, Sayaji Glossner, & Rodel Simpauco                                                                Kids Long Drive - Jasmine Leovao & Justin Leovao                          Kids Closest to the Pin - Jay Leng Jr.,  Reed Arnaldo, Julie Whitehill, & Lynn Pham - all win $25 gift cards to Local Tap House in Oside!
NCJGA JUNIOR CHAMPIONSHIP AT CORANADO GOLF CLUB Sponsored by Golf Medallion Awards                                                Final Results                                                                                        SCPGA TTC - Boys Bobby Xu 73 - Runner Up Jared Edillor 74        SCPGA TTC - Girls Summer Yang, Lynn Pham, Tsai-Ni Yu 77          Boys 14-18 Ryan Tsukamoto 82 - Dylan Hebert 91                            Boys 12-13 Stephen Zhu 84 - William Zeiler 88                                Boys 10-11 Srinesh Namburi 74 - Ty Smock, Thomas Browning 81 Girls 18 Rodaylin 77 - Vivian Yang 86
NCJGA JR TEAM PLAY AT GOAT HILL PARK - BOYS AND GIRLS Monday Girls practice 3:30-5:00 Thursdays Boys practice 3:30-5:00
Special Thank You to all the families who support what we do, provide fun and competitive events in a fun, developing atmosphere!
We post Great Pics & News in our Social Channels all the time.
Follow Us!
What Can You Expect from Your NCJGA Experience?
Click on your area of interest below to learn more.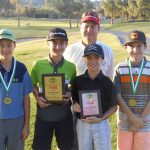 TOURNAMENTS
NCJGA offers tournaments for Juniors ages 5 to 18-years-old all ages and skill level welcome.  We have 2 tours to meet all ages and skill levels. The Executive Tour and Championship Tour.
The NCJGA also has SCPGA Toyota Tour Cup (TTC) division for advanced player wanting the opportunity to earn points through the year long player of the year points. Exemptions will be awarded to the top 3 boys and girls who meet the scoring requirements of the SCPGA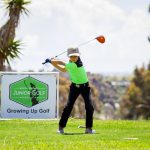 INSTRUCTION
David Emerick,PGA Member for 30 years  offers junior-specific instruction to boys and girls from 5 to 18 years old who are competitive junior players to kids who are just starting out.
David has been a PGA member for 30 years and has competed as a junior golf, raised a junior golfer, and has coached many top juniors.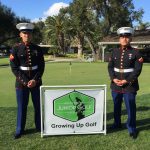 COMMUNITY
As a participant in the NCJGA events, your child will become a part of a supportive, social golf community of players, parents and volunteers that care for one another and gives back to our community through charity. 
Kids can do community service and be on the NCJGA Jr golf advisory committee and help others kids! 
Our Leader
David Emerick, PGA
"Coach Dave" has won numerous awards for his commitment to teaching Junior Golf in San Diego. His devotion to teaching young boys and girls how to "play golf for life" has been touching the lives of families since 1983.  He loves teaching beginners and has helped 50+ players earn spots on D1 rosters. 
OUR HOME COURSE
Goat Hill Park, Oceanside
Our World Class, Working Class home course, Goat Hill Park, in Oceanside, CA provides a loving, supportive backdrop to many of the Camps, Clinics and Tournaments on the NCJGA Schedule. 
THE PLAYGROUND AT GOAT HILL
In addition to the challenging par 65 course, the super fun par 54 Mini Goat, the Goat is adding The Playground this spring.
Next to the already impressive grass driving range and large short-game practice area, Goat Hill is adding a beginner and kid-friendly super short course.  The holes will range from 25 to 60 yards and allow your beginner to learn the etiquette and behavior needed to really golf for life for FREE. Adults are welcome too...
Read all about The Playground by clicking here.
Parents often ask David, "How and when do I get my kids into golf the right way?"
Support Our Sponsors & Become One!